pond&things
guest,you are currently navigating this Web Ring
Welcome to the pond&things web site.
Please feel free to hop around to my other pages by following the links at the side, bookmark this page for a return later . I will be periodically updating as I find time.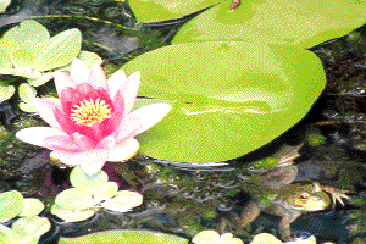 April 6,2001......Finally after 160 days we have had a day of extreme warmth, 81 degrees and plenty of sunlight in the Cleveland Ohio area. The real sign of spring are the presence of the frogs around the pond finally waking after their long dormant cycle. While cleaning up the fall leaves new plant life underneath is also observed.
May16, 2001........Another update with new photos added to page 2 & 3.
May19, 2001.........2 more photos added to page 3
July15, 2001..........As the weather heats up new photos of Pond page 3
July23, 2001...........
Added a page of large photos
August, 2002..........New Pond construction find it
here
next page
View My Guestbook
Sign My Guestbook