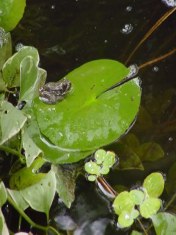 contents
Welcome to Pond & Things
For many reasons we attempt to recreate that perfect pond or stream found in a magazine or seen in person. After a great effort to duplicate this we either give up or succumb to the fact it can not be done. The most overlooked reason for this failed effort is poor planning. I can make this statement only because I've done it myself. Hopefully on my site I will be able to offer some remedies for this or guide you in the right direction.
What I will primarily focus on is the design aspect of creating that perfect pond for our yard. The water quality, including filtration, aeration and chemical balance also fish and plant management will be directed to other sites on my links page.
Six years ago when we purchased this house the greatest selling point was the location. Located in a suburb of Cleveland Ohio was this house with an extra lot backing to a city park. The main part of the yard is fourteen feet higher than the back part. A ramped valley divides the entire back yard offering an easy way to the bottom, and a great place for sled riding in the winter.
The following photos are of my upper pond accessed from the upper
and middle levels of my deck.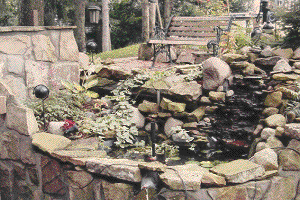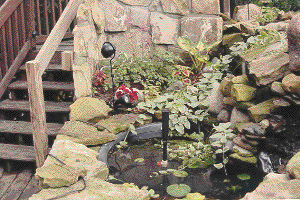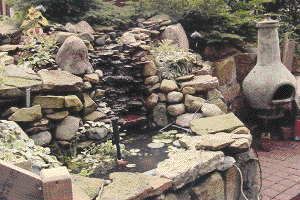 This view is looking toward the deck from the top of the yard
next page
home